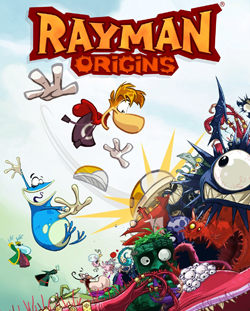 Rayman Origins
 is a 2D platformer released on November 15, 2011, in North America and November 25, 2011, for Europe for the PlayStation 3, Xbox 360 and Wii and was released as well for the PlayStation Vita, Windows Vista computers and Nintendo 3DS a few months later. The Mac OS X version of the game was released by Feral Interactive on December 12th, 2013.
Rayman Origins has received critical acclaim, being highly praised for its graphical style, level design, and sense of humour. Despite its critical reception, it did not perform very well commercially during its original release in November 2011.
The Rayman Origins walkthrough was started on June 11, 2018. The walkthrough was also set up as a Co-op Playthrough with MrsGamingZone.
Jibberish Jungle
Edit
Desert of Dijiridoos
Edit
Gourmand Land
Edit
Sea of Serendipity
Edit
Mystical Pique
Edit
Ticklish Temples
Edit
Grumbling Grottos
Edit
Luscious Lakes
Edit
Angsty Abyss
Edit
Moody Clouds
Edit
Community content is available under
CC-BY-SA
unless otherwise noted.